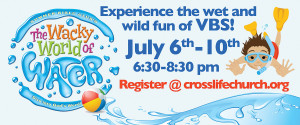 This year's VBS promises to make a splash!  Come join us for the Wacky World of Water VBS.  We'll meet Monday through Friday at 6:30 pm each night.  We will have skits, fun lessons, games, crafts and snacks.
We're trying something new this year.  We'd like for everyone to register online so we now how many people are coming.
If you pre-register online by June 25th we'll give a Free T-Shirt to the first 50 attendees.